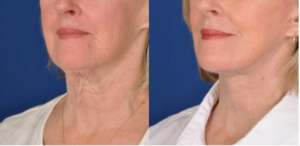 When it comes to choosing a facelift surgeon, there is no question that the right credentials are required. Anyone who entrusts the appearance of their face to cosmetic surgery should choose a surgeon who is board-certified by either the The American Board of Plastic Surgery (ABPS) or the American Board of Otolaryngology – Head and Neck Surgery, which are the two primary boards of the American Board of Medical Specialities (ABMS). When you choose Dr. Edmon Khoury for your facelift procedure, you are choosing a double board-certified plastic surgeon who has chosen to further his credentials by specializing in cosmetic and reconstructive surgery of the face. As a facelift specialist, Dr. Khoury has also obtained a substantial amount of training, including training at the prestigious Johns Hopkins University and Tulane University.
Your surgeon's credentials and training can be thought of as a "prerequisite" to experience and natural skill, which will set him or her apart from other surgeons. A surgeon who is board certified by the aforementioned boards has met at least the minimum required amount of training, hours of experience, and passing grades on both written and oral exams.
Extensive experience and plenty of highly satisfied patients prove a surgeon's talent. Within the past decade, Dr. Khoury has used his natural skills of artistry and attention to detail along with his acquired surgical knowledge to enhance the beauty of thousands of faces. His before and after photos of facelifts and laser-assisted facelifts reveal many of his most satisfied patients.
More indicators of excellent facial plastic surgeons are respect from peers and patients, recognition in the media, and being chosen to teach other surgeons. Dr. Khoury was selected as a surgical trainer for the Lifestyle Lift, which is a medical group that performs the highest number of facial rejuvenation procedures in the country. He will be training surgeons internationally on minimally invasive facial cosmetic techniques at the international division of the Advanced Body Sculpting Institute he is helping to establish. Dr. Khoury is highly revered among his patients and fellow surgeons and has received the Patients' Choice Award, the On-Time Doctor Award, and Compassionate Doctor Recognition for the last several consecutive years. He also made the list of America's Top Plastic Surgeons five years in a row.
As you entrust your face to Dr. Edmon Khoury, you can be assured that you are in the right surgical hands. Schedule your complimentary consultation by calling (720) 475-8400, or fill out our online contact form today for more information.
*Results May Vary