Puffy, saggy eyes are obvious and often unwelcome indicators of the aging process. Sometimes, excessively aged eyes can cause a person to appear older and more tired than they are, making it difficult to express themselves accurately. Blepharoplasty creates a refreshed, natural-looking facial appearance by removing excess tissue from the eyelids.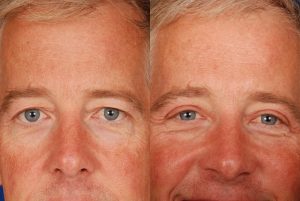 Some patients may benefit most from a combination of facial rejuvenation techniques, but it is common for blepharoplasty to produce a pleasing, significant improvement on its own. Patients who undergo this procedure often feel that it not only enhances their outer appearance but also restores their confidence. It should be noted that the best candidates for blepharoplasty are in good health, have realistic expectations of the procedure, and have a positive disposition.
Benefits of Blepharoplasty
In the hands of a skilled, board-certified surgeon, blepharoplasty can produce stunning yet subtle facial rejuvenation, including:
Smoother, more youthful eyelids
Improved field of vision
Hidden, nearly imperceivable scarring
Procedure
The entire procedure lasts about 40 minutes, and it is performed under local anesthesia. Incisions are created within the natural eyelid creases, making any resulting scars nearly invisible to the naked eye. Through these incisions, excess skin may be excised, and fat can be either removed or repositioned. Whether a patient requires skin excision, fat removal, or fat repositioning depends on the severity of their condition.
Is Blepharoplasty Right for Me?
You may want to consider blepharoplasty if you can relate to one or more of the following eyelid concerns:
Excess skin that hangs over the natural fold of the upper eyelid
Excess upper eyelid skin that hangs over the eyelashes
A tired, aged appearance due to puffy eyelids
Under-eye bags