"The face is the mirror of the mind, and eyes without speaking confess the secrets of the heart."
– St. Jerome

So many emotions can be communicated through our eyes. Without speaking, we tell others that we're happy, sad, nervous, surprised, or upset. The ability to disguise our true feelings is preferred in some settings, like when playing poker or telling a white lie, but what if our eyes are constantly sending a false message about our age, mood, or health status?
What lies are your eyes telling?
Dark circles, under-eye bags, fine lines, wrinkles, and drooping upper eyelids can all make you look tired, sad, sick, and older than you actually are. With a quick procedure called blepharoplasty, Dr. Khoury can reverse these signs of aging and help you communicate your feelings accurately. Also known as the eyelid lift, blepharoplasty can be performed on the upper and lower eyelids and can also be combined with other facial procedures for an overall balanced look.
Upper Eyelid Lift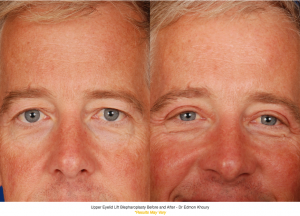 The upper eyelid lift addresses sagging skin of the upper eyelids that can sometimes interfere with vision and make you appear chronically sad or tired. The incisions are hidden within the folds of the eyelids and do not leave noticeable scars. The excess skin is removed, and the tissues beneath are adjusted or removed to give your entire face a more alert and refreshed appearance.
Lower Eyelid Lift
The lower eyelid lift, which can be performed alone or with the upper eyelid lift, targets under-eye bags, helps reduce dark circles, and will remove fine lines and wrinkles.
The eyes are truly the "windows to the soul" (Shakespeare), "the mirrors of the mind," and the first place others look when they speak to you. Choosing to enhance this feature can help you appear younger, healthier, and even happier than you looked before, all while significantly improving your quality of life.
If you would like to learn more about blepharoplasty and whether this procedure is right for you, please schedule a consultation with Dr. Edmond Khoury by calling (720) 475-8400 or by filling out our quick contact form online.
*Results May Vary