It's no secret that we all fall victim to the effects of time, and its ravages tend to unfortunately show the most in the face. Aging is inevitable—as we grow older, our facial tissues begin to loosen and crease, leading to wrinkles and lines that will only increase as we continue to age. Those forehead furrows we get when we wrinkle up our forehead start to get deeper and deeper. There are lines and bags under our eyes, and the skin and tissue around our jawline and neck begin to fold and soften. This is, unfortunately, just part of the natural passage of time for all of us.
But there is a secret tool that can help us regain some of our lost youth—at least when it comes to your facial appearance. This secret weapon can help tighten up loose skin, fade deep lines and wrinkles, and lead to an overall rejuvenated appearance that will not only take years off your face but help you feel more youthful and confident.
What's this figurative fountain of youth, many ask? At Dr. Khoury's office, the solution for tighter, youthful skin lies in the neck lift, liposculpting, and facelift rejuvenation procedures offered. With minimal pain and discomfort and a short recovery time, these procedures can help correct issues like wrinkles, loss of facial volume, and sagging skin to help people from all walks of life achieve a youthful radiance.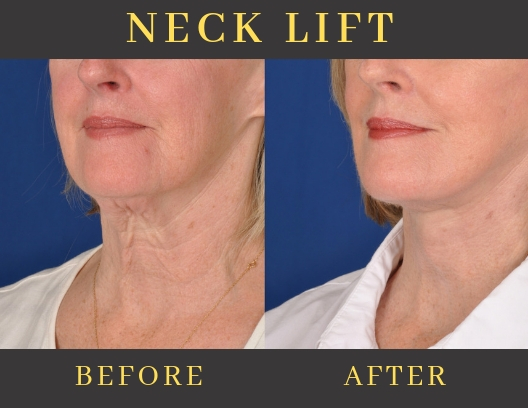 Neck Lift Surgery
A neck lift surgery specifically addresses the tissues below the face and around the neck that tend to loosen and sag as we age. This procedure helps tremendously in defining the contours of the neck and jawline, ultimately leading to a smoother contour and more youthful appearance.
How It Works:
Considered the "gold standard" for the neck and jawline, neck lift surgery takes about one to two hours to complete and about five to seven days for patients to recover. Dr. Khoury performs neck lift surgery by creating small incisions behind the ears and under the chin within the natural crease of the skin. These incisions are then used to tighten up loose muscles along the neck, chin, and jawline.
What It Does:
Neck lift surgery is mostly used to correct deep lines and wrinkling around the neck tissues. Known commonly as "turkey bands," those visible, loose wrinkles on the neck can contribute to an aged appearance, even if the facial tissues are not as visibly lined. Neck lift surgery can also help correct the excess fat along the chin, neck, and jawline that leads to visible "jowls" to create a more youthful facial contour.
Liposculpting
With liposculpting, patients are getting one of the most cutting-edge cosmetic surgery processes available to help combat the signs of aging. Dr. Khoury uses a VASER® or Smartlipo® machine, which uses ultrasound or laser technology to reduce and remove fat under the skin while also tightening up loose skin and muscles. Liposculpting can be used as a substitute for a conventional neck lift or facelift surgery if a patient does not warrant more extensive work. It can also be combined with other procedures.
How It Works:
Liposculpting can use either laser technology via the Smartlipo® machine or ultrasound technology with the VASER® machine. Both machines are used under the skin, using small incisions, to target the fat cells beneath. The laser or ultrasound waves are used to melt away fat, which is then selectively suctioned off. Facial tissues are also tightened as a result of tissue coagulation. Liposculpting takes about an hour to complete with a recovery time of a week or less.
What It Does:
Liposculpting can address several areas of the body, but it commonly addresses the neck and jawline. It will eliminate the fatty deposits around the neck and under the jawline to correct jowls and other loose, sagging areas. Liposculpting helps tighten facial muscles and leads to a smoother, more youthful contour. It can be used as an alternative or complement to traditional facelift or neck lift procedures.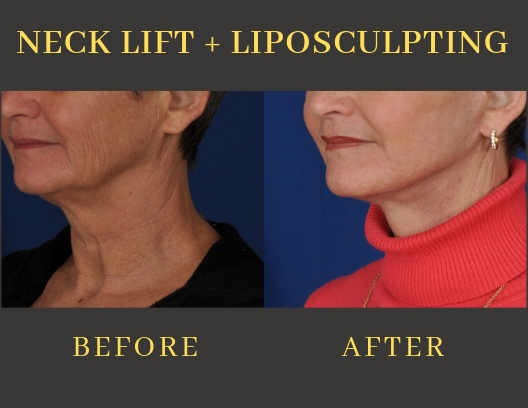 Using Neck Lifts and Liposculpting With Facelifts
Some people choose to use a neck lift or liposculpting on their own to target problem areas without having to undergo more extensive procedures. Neck lifts and liposculpting can definitely help address common aging issues in a minimally invasive way, and results are typically long-lasting.
But those looking for the best rejuvenation results might consider combining a neck lift, liposculpting, or both procedures with a facelift procedure as well. Facelift procedures are more invasive, but they are the best option for patients looking to address more areas of the face and neck than a neck lift or liposculpting can target.
Neck lift surgery is typically a good complement to a facelift procedure, as Dr. Khoury can then address problem areas in the neck while tightening up the facial muscles. Liposculpting can then be used to get rid of excess fat and smooth facial contours. The addition of a neck lift or liposculpting procedure to a standard facelift typically will not add to the surgical time or recovery time of the overall procedure. When combined, these procedures dramatically enhance and rejuvenate the appearance, and results can last up to ten years or even longer.
Are you interested in learning more about what Dr. Khoury has to offer with neck lift, facelift, and liposculpting procedures? Give us a call at 720-475-8400 to schedule a consultation soon.