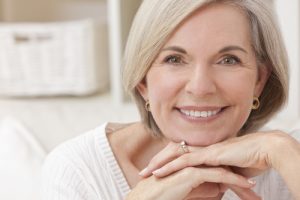 Eyelid lift surgery, or blepharoplasty, is one of the most popular plastic surgeries performed to this day. An eyelid lift can revitalize and shave years off of your appearance, but not all eyelid lift patients choose blepharoplasty for aesthetic reasons.
Eyelid Lift for Practicality
Those with severely droopy eyelids may suffer from dermatochalasis, or excessive skin around the eyes. The excess skin can sag in front of the eye, obstructing the patient's view. Some people with this condition also report brow aches due to overcompensation of the facial muscles. In cases like this, blepharoplasty serves a functional and necessary purpose. By undergoing non-cosmetic eyelid lift surgery, patients will:
Have a better range of vision
Be more self-sufficient
Read comfortably and pain-free
Feel that the world appears brighter
At What Age Should I Consider Eyelid Lift Surgery?
Most eyelid lift procedures, aesthetic and practical alike, are performed on people ages 40 and older. Dermatochalasis more commonly affects the elderly, but congenital dermatochalasis can begin developing in a person's 20s. Your plastic surgeon will assess the state of your eyelids, and you can proceed from there.
Insurance Coverage
Every health insurance company has different policies regarding which benefits they do or do not cover in their plans. Dr. Khoury does not have contracts with insurance companies, but financing is available. Your insurance company may reimburse your surgery cost if you qualify for blepharoplasty coverage. You are likely to be a candidate for eyelid lift coverage if a physician has confirmed that your eyelids impair your vision. You can check what plastic surgery benefits your insurance company offers by contacting them for more information and seeing if you meet the requirements before undergoing any procedure.
If you would like to learn more about blepharoplasty and whether this procedure is right for you, please schedule a consultation with Dr. Edmond Khoury by calling (720) 475-8400 or by filling out our contact form online.
*Results May Vary