Over time, the eyelids can become heavy and start to droop, leading to impaired vision and an overall tired appearance. Due to genetics, aging, and daily facial expressions, the skin around your eyes will inevitably begin to relax, causing you to appear exhausted or angry, even when you are in a great mood and well-rested. With blepharoplasty, often referred to as eyelid surgery or an eyelid lift, vibrant eyes are restored, dark circles under eyes are remedied, and obstructed vision caused by excess, lax skin is improved. Blepharoplasty results in youthful, brighter eyes.
Benefits
After undergoing blepharoplasty, eyes have a refreshed, youthful appearance, your range of vision is potentially enhanced, and excess skin, wrinkles, bags, and dark circles are eliminated. Patients look rejuvenated and alert because the skin around their eyes no longer appears heavy. Undergoing blepharoplasty can address the following concerns:
Dark bags under the eyes

Drooping eyelids

Excess skin causing wrinkles around the eyes

Fat and puffiness

Sagging or loose skin that creates folds and fine lines, leading to impaired vision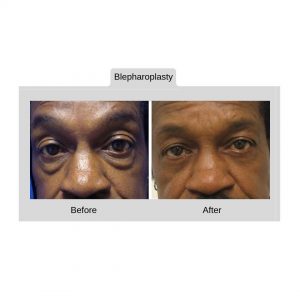 Process
Dr. Khoury administers each patient's preferred method of anesthesia to ensure a comfortable procedure. This will be discussed during your consultation appointment prior to your surgery. Incisions are made in inconspicuous locations around your eyes, so your natural facial creases and contours will conceal scars.
Methods
Each treatment is customized to achieve your individual goals and can include the upper eyelids, lower eyelids, or a combination of both. Your specific areas of concern will determine which technique will benefit you.
Upper
For this option, incisions are made along the natural crease in the middle of the eyelid to remove excess skin and incisions are closed using surgical sutures.
Lower
If your concerns include lower eyelid issues, then an incision is made directly below your lower eyelash line to remove excess skin and reposition fat or remove it altogether. Incisions are closed using surgical sutures.
Transconjunctival
An alternate incision location may include one made on the inside of the lower eyelid, known as the transconjunctival technique. By allowing access to lower eyelid tissue and fat, this method is best when skin does not need to be removed.
Additional Procedure Option
Some patients opt to combine blepharoplasty with a forehead lift, also known as a brow lift, to address drooping eyebrows and wrinkles along the forehead. It is important to communicate all of your concerns and cosmetic goals to ensure that Dr. Khoury can address any issues and achieve your desired outcome for long-lasting results.
If you are bothered by your aging eyes and other areas of concern, take a step towards your ideal appearance by contacting our office today to schedule a consultation. Our office can be reached by calling (720) 475-8400.