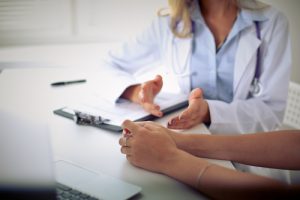 The initial consultation is where the prospect of surgery either continues or ends. This one-on-one, doctor-patient appointment accomplishes several things:
Informs the patient about the procedure(s) they are considering.
Assesses the individual's physical anatomy, health history, and goals for the procedure.
Provides available options based on these factors.
Allows for the surgeon to show results of before and after photos to help the patient feel comfortable.
Allows for the patient get to know the doctor's experience, credentials, and personal demeanor.
Many surgeons charge for the initial consultation because their time and expertise are valuable; they do not want to waste their resources on patients who are not serious about committing to surgery. While asking patients to pay for a consultation is not necessarily wrong, we feel that there are several advantages to choosing a surgeon who offers them free of charge.
No Pressure for the Patient
When the patient does not pay for a consultation, there is no pressure for them to schedule a surgery date. They can learn about the procedure, recovery time, risks, and results they can expect without having to commit. While this does take the surgeon's time, the advantage is spreading quality care to a person who may revisit the idea of surgery in the future or who may recommend the surgeon to others because of their positive, informative experience.
Whether or not they decide to pursue surgery, Dr. Khoury's potential patients leave the consultation well-informed and comfortable with whatever they decide.
The Surgeon Has Good Motives
A top plastic surgeon is not necessarily determined by the dollar amount he or she charges but, rather, by several other factors. Patient care is one of the most important qualities, followed by experience, education, and their reputation among their peers and patients. Surgeons who are passionate about what they do view each opportunity as a chance to present their artwork to the world. As such, they would not want to "sign their name" by committing to surgery unless they were completely confident that surgery would be the best option for a patient. Without charging a consultation fee, there is not even a minimal amount of obligation for the surgeon to provide surgery to a patient in the rare chance that they would be a poor candidate. In such a case, the patient will also likely feel that they wasted their time and money just to be turned away.
The Surgeon Has Confidence
By not charging a fee, surgeons know that it will be much easier for patients to have consultations with other surgeons, which is always recommended. The surgeon you consider should be an expert in performing the procedure you choose, they should have a good understanding of the results you desire, and they should also mesh with your personality. Surgeons who do not charge a consultation fee are often confident that the patient will follow through with surgery because they provided a quality, informative experience at no cost.
To schedule your free consultation with our board-certified plastic surgeon, Dr. Edmon Khoury, please call (720) 475-8400 or fill out our online contact form today.