The facelift is a popular facial procedure because it addresses several cosmetic issues simultaneously. Patients who choose this treatment can enjoy a more youthful lower face and smile with confidence. However, the beauty of the facelift is that other procedures can be combined with it to create even more stunning results. Adding a neck lift can complement a facelift beautifully and offer a complete facial rejuvenation.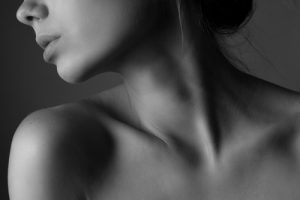 Neck Lift
A neck lift is usually performed in conjunction with a facelift to achieve optimal results. The neck is sometimes neglected when someone considers facial rejuvenation, but it is vital that the youthfulness of the face matches it to produce the most pleasing aesthetic.
Recovery
Recovery from a neck lift with a facelift is relatively short. Patients can expect a 10 to 14-day recovery, which would be the same with or without the neck lift. The benefits of adding a neck lift to facelift surgery do not lengthen recovery time.
Am I a Candidate?
Ideal candidates for neck lift surgery can relate to any of the following concerns:
Sagging neck skin
Muscle banding or "turkey neck"
Heavy or full-looking neck
For more information about neck lift surgery, neck liposuction, or facial rejuvenation, please contact Dr. Khoury's office at 720.475.8400.
*Results May Vary