Common Questions About Facelifts and Neck Lifts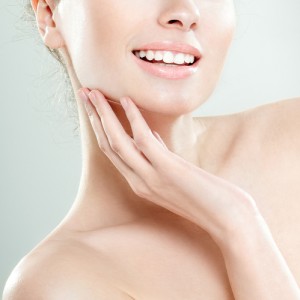 As we age, the skin on the face and neck tends to lose collagen and elastin, which causes wrinkles and sagging skin to develop. While various factors like sun exposure, weight fluctuations, and the natural aging process greatly affect the severity of these conditions, most individuals begin to notice them in their 30s and 40s.
Aging in the face can produce the following:
Sagging skin in the midface
Wrinkles around the eyes
Nasolabial folds (creases around the nose and mouth)
Loss of definition along the jawline (jowls)
Aging in the neck can produce the following:
Double chin (excess fat deposits beneath the chin)
Vertical bands in the neck
Sagging skin in the neck
By eliminating the signs of aging in the face and neck, Dr. Edmon Khoury is able to restore a youthful appearance. Although he regularly performs traditional facelift and neck lift procedures that have proven effective for many years, Dr. Khoury also offers the innovative Smartlift™. As one of only five surgeons in the country who performs this method of facial rejuvenation, Dr. Khoury has refined this technique to give patients satisfying results without the added time needed for recovery from regular facelift and neck lift treatments.
If you're considering a facial cosmetic procedure like a Smartlift™, facelift, or neck lift to restore a youthful appearance to your face, continue reading our FAQs for more information.
What is the estimated healing time for a Smartlift™?
Typical recovery time for a facelift is two to three weeks, but Dr. Khoury utilizes a laser in a unique way that allows him to perform a facelift almost bloodless. This accelerates healing and recovery time. Most of his patients can integrate back into public between five and seven days. Many have done it as soon as three days post-operatively.
How is this different from other facelifts?
Depending on what bothers the person and the physical signs, most patients need their lower face and/or neck addressed. Dr. Khoury performs the gold standard facelift that provides the best natural results and longevity. Utilizing the laser allows for an expedited recovery that is typically 10 to 14 days shorter than if  the same facelift were performed without the laser.
How is this laser different?
This is not one of the typical lasers that dermatologists or plastic surgeons use to resurface the skin, which are comparable to a chemical peel. The laser Dr. Khoury operates is used in an entirely different way. It allows him to perform the procedure without any bleeding, which translates to less downtime and a quicker recovery.
How long has Dr. Khoury been in practice?
Dr. Khoury has been in private practice since 2006. More importantly is the amount of experience he has in what he does. He exclusively performs facelift/neck lifts and cosmetic eyelid procedures. As a result, the number of cases he has done during his years in practice is more than most plastic surgeons perform in a lifetime. He has performed almost 3,000 facelifts and approximately 2,500 eyelid surgeries.
How will I feel under local anesthesia?
Most of Dr. Khoury's facelifts are performed under a local anesthetic. Although this is done using the same anesthetic patients receive at a dental office, Dr. Khoury does also sedate patients mildly with an oral medication similar to Valium. This takes the edge off, and patients are very comfortable throughout the procedure. The worst part of the procedure is the numbing process, and most patients report that this is easier than what they experience at the dentist. Once numb, the patient will not feel any pain. Due to the sedative, most patients do not even remember the experience. Depending on medical history and the patient's preference, Dr. Khoury can also perform surgery under IV sedation and general anesthetic.
What kind of discomfort can I expect?
This can vary but is not typically a painful ordeal. The worst of the discomfort is centered around neck tightness. The sensation of neck tightness remains for a while, but the most pain is the first night. For most patients, typical pain medication with an occasional muscle relaxer makes this a very tolerable experience. The majority of patients are off pain medications between 36 and 48 hours after the procedure. They may still require muscle relaxers (non-sedating ones) for a few more days from that point forward. If the neck is not addressed, the amount of discomfort is minimal.
When can I wear makeup?
You can start wearing makeup the day after your surgery, avoiding any suture lines. Be very gentle when applying makeup for the first two to three weeks post surgery.
When can I exercise or go back to physical activities?
You may return to exercise and physical activities two weeks after your procedure. Make sure you slowly get back into your routine, as you might feel more run-down the more active you get. Before skiing, golf, and swimming, we usually require three to four weeks of healing time. Since the procedure is performed under local anesthesia and due to the quick recovery facilitated by the laser, patients do rebound quickly. We do want people to be active as soon as possible, and it is usually okay to walk and do some restricted physical activity within the first week. Dr. Khoury will review this at your pre-op appointment.
To determine which cosmetic facial procedures you are best suited for, we encourage you to schedule a personalized consultation by calling (720) 475-8400 or by filling out our online contact form today. Double board-certified plastic surgeon Dr. Edmon Khoury and his experienced staff look forward to seeing you soon!
*Results May Vary